Download the workbook
In this course we will teach you everything we know about Creation Care Ministry.
But knowledge alone is not enough: you must remain active throughout the course!
This is why we have created this workbook. Please download or print it out and fill in the spaces so that you can develop this new ministry of Creation Care in a professional and effective way.
You will see this icon throughout the course to tell you when you need to complete each exercise.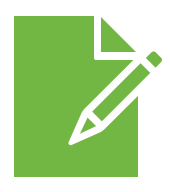 EXERCISE (Answer in your workbook)
What are your expectations of the course?
How do you wish to develop Creation Care Ministry in your church?
Complete and Continue